Case Studies: Local SEO & Website
Dayley Pro Painters in Vancouver, WA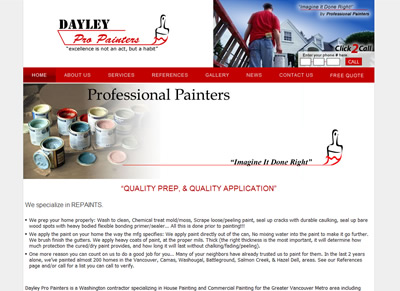 Dayley Pro Painters is a Painting Contractor located in Clark County WA providing residential and commercial painting & repair services. They were looking to grow sales by maximizing their exposure in Vancouver, the largest city in Clark County WA. The main business phone number is a cell phone. Their website was built in tables and not getting listed very well in the search engines.
nu

Response

Solutions:
Rebuilt existing website onto a Search Optimized platform and integrated Quick Connect Tools.
Increased Website Traffic through Local SEO and indexing.
Instant Call notifications - When the sales phone number is dialed, an instant notification is sent to the estimator.
Web Form Quick Response - Web form to phone call technology.
Sample Keyword Phrase: painting contractor Vancouver WA
A Perfect Bumper Portland OR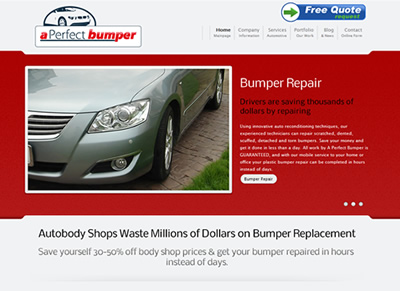 A Perfect Bumper is a mobile service company that repairs plastic bumpers, installs 3M Paint Protection Film (automotive Clear Bra), & tints windows throughout the Portland Metro area. Their website is their only source of advertising. The website needs Google 1st page placement for top keyword phrases, and needs to efficiently convert online visitors into offline leads/phone calls (and ultimately sales).
nu

Response

Solutions:
Built search optimized website and integrated Quick Connect Tools.
Generated online website visitors through Local SEO and indexing.
Instant call notifications - anytime the sales phone number is dialed, an instant notification is sent to the owner.
Web Form Quick Response - Web form to phone call technology.
Sample Keyword Phrase: Bumper Repair Portland OR or Paint Protection Film Portland OR